A lot of my travels in Kyushu have been sleepless sightseeing; catching the last train to Hakata, enjoying the nightlife and late night ramen, and going on the first limited express to the destination of my choice. I must be out of my mind, considering the toll it takes on my body every single time.
My record for staying awake stands at about 60 hours after I pulled two all-nighters during the last week of classes in college; my record for sleeping is 26 hours, following that nightmare. The only reason I'm able to survive in places like Beppu is I enter the onsen, and a state of deep relaxation. It's almost enough to forget REM sleep.
Nevertheless, I will be attempting another insane adventure this weekend while the cherry blossoms are still alive and well; this time, I will be well-rested, and prepared to go the distance. Cramming in as much sakura as possible, seeing the people, absorbing the sights, and feeling as content as I possibly can. Let the games begin.
Himejijo (姫路城)
Source
Himeji is without a doubt the most well-preserved castle in Japan, the most visited, and the most impressive. Unlike many of the other castles you see in Japan which are complete recreations, Himeji stands intact with only minor restorations.
Over
one thousand
cherry blossom trees surround the castle and its grounds, making this a must-see place during the sakura season.
Access
- along the Sanyo local and Shinkansen lines, Himeji Station.
Himeji website
Koyasan (高野山)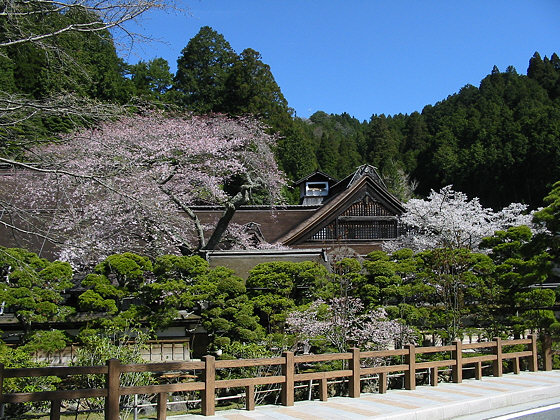 Koyasan, south of Osaka and east of Wakayama, is not particularly well-known for its cherry blossoms, but rather its
rhododendron
. Nevertheless, I will be visiting this famous city with its Buddhist temples as required by the "code" of the
88 temple pilgrimage
.
I've been told this is an excellent place to stay in a traditional temple and join the monks for meals and morning prayers. However, this can be rather costly; I'm afraid I'll have to settle for the
youth hostel
.
Fortunately, April 8th happens to be the Buddha's birthday, so there will be an eventful ceremony that day.
Access
- from Shinosaka, take the Midosuji subway line to Namba station. Walk to the JR Namba station and it's a direct train on the Nankai-Dentetsu line. About two hours from Osaka.
Koyasan Youth Hostel
Koyasan website
Japan-Guide information
Koyasan Tourist Organization
Yoshinoyama (吉野山)
Widely considered to be the
most popular and famous place for cherry blossom viewing in Japan
, Yoshinoyama lies just outside the ancient capital of Nara along an accessible rail line.
30,000 trees?
- I'll say no more.
Access
- check
Hyperdia
for this one; you could be coming from all directions.
Yoshinoyama, Japan-Guide
Maruyama Koen, Kyoto (円山公園)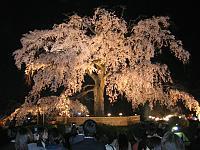 Perhaps the second most famous spot for hanami in all of Japan, and certainly the most popular in Kyoto. This park just east of the city is jam-packed with partygoers once the sakura start blooming. It's just as eventful and exciting as any Japanese matsuri.
The real attention-grabber is the shidarezakura, the "weeping cherry blossom tree". It's lit up at night for the best viewing.
Access
- from Kyoto station, take the #206 bus to Gion stop. Follow the smell of alcohol, or just walk in the same direction as everyone else.
Uncertain where to go? Certain that you're not as crazy as me? Check out some of the more popular
cherry blossom viewing spots
.